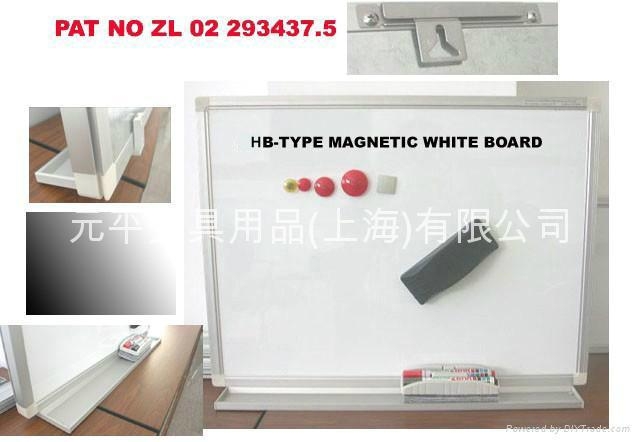 HB Magnetic White Board System
Product Description
Anodized aluminum frame with gray ABS corner finishes.
Included with aluminium deposit tray. Together with wall fixings.
Took into consideration the most recent findings on conference and presentation techniques. High quality and good design were stressed.
The design of HB-whitwboards ensures that they harmonize with almost and existing surroundings. HB-boards can be used in office, hotels, schools, conference rooms, entrance halls, staircases, or indeed wherever information is to be effectively conveyed in a visual manner. The HB-board can be hunh from the long or short side.
Specifications:
HSB aluminum framed, removable pen ledge and movable hangers(PAT NO. ZL 02 293437.5 CHINA).
30x45 cm,60x45cm,
90x60cm,
120x90cm,150x90cm,
180x90cm,120x120cm,
150x120cm,180x120cm,
210x120cm,240x120cm,
300x120cm,360x120cm

Advantages:
Anodized aluminum frame with gray ABS corner finishes.
Included with aluminium deposit tray. Together with wall fixings.
Took into consideration the most recent findings on conference and presentation techniques. High quality and good design were stressed.
The design of HB-whitwboards ensures that they harmonize with almost and existing surroundings. HB-boards can be used in office, hotels, schools, conference rooms, entrance halls, staircases, or indeed wherever information is to be effectively conveyed in a visual manner. The HB-board can be hunh from the long or short side.
Export Markets:
Worldwide