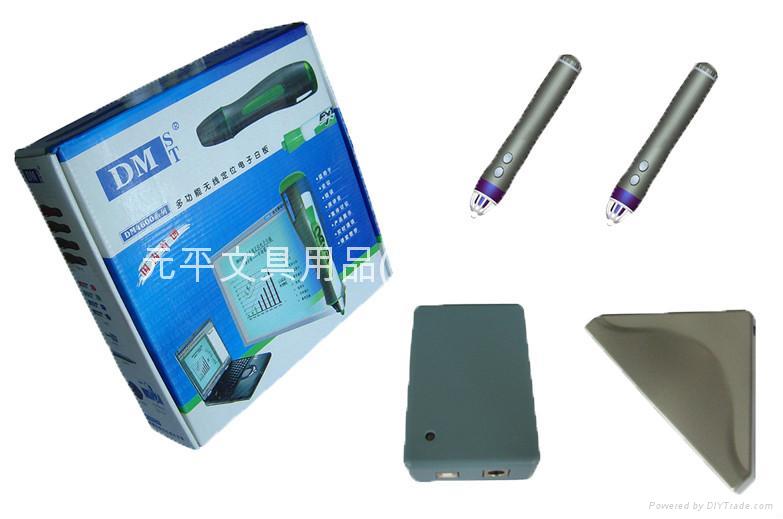 Product Description

DM4604 is a wireless location principle of the most flexible whiteboard, its most important feature of making any smooth rigid plane into whiteboard. It is a newly emerging internationalfor the teaching demonstration.

The meeting discussed the work report, military exercises, distance education, Field of medical and other high-end digital devices.

EWB interactive whiteboard can be adoptedwith a real face to face, all kinds of information can be written in your electronic speech, direct transfer with text files, pictures, images and other data with the vivid image of your speech. EWB interactive whiteboardcan also network through the Internet to meet the needs of off-site communication and exchanges, so that the distribution of living officers from around the world as

The same room to communicate the same to achieve more work together. Wireless location approach is the future direction of development whiteboard
Specifications:
1.The largest writing area: 1.5m × 2.0m.
2.The system tracking speed: more than 3m / s.
3.The system resolution: 0.3mm.
4.The system operating temperature: 0 ~ 40 degrees.
5.The signal pen continued to work
Advantages:
1.With any combination of smooth rigid plane can constitute whiteboard, convenient, flexible and Economical.
2.High-resolution, fast response.
3.In the direct control of the computer operating the plane.
4.In cooperation with the projection equipment to achieve interoperability.
5.The use of electronic ink to write directly on the plane in operation.
6.Can save writing, recording, prints or sent to the e-mail.
7.Let the teacher or the speaker as natural as the use of ordinary blackboard.